Mom bought son "GTA IV" yesterday for his PS3. Son gets home from school, I inform him that "directory assistance" calls cost money... don't make any more (there was a total of 4 made on April 12th, total cost of $14.05 added to the phone bill)! Three were for "outside the 40 mile radius" for local calls. Need to get around to asking him who the heck he was trying to locate! Told him next time I see erronious(sp?) charges on the phone bill, I'm going outside to the box on the side of the house and disconnecting the wire going to his room!

This might be a decent month for me financially, if everything pans out. The governments tax stimulus check might come this month, and a few people said that on our paycheck on the 15th, we may have another "MyShare" bonus... last one was over $200!

Update to the "Reddi Whip" post. Joey, the dairy manager, said we won't be getting any canned whipped cream shipped to the store again until after the middle of May. Something about Wal-Mart is "re-classifying" it, yet it will still be in the dairy section. Yes, I know, it makes no sense at all to me either (but then again, NOTHING that store does makes any sense)! All I know is that customers are getting a bit teed off about the situation. One girl said she guessed she'd have to put Cool Whip (in the frozen section near the ice cream-not dairy) on the strawberries she was buying instead.

Found this over on DVDTalk.com's "Other Talk" forum this evening after getting home from work. Submitter said it was the best fake drivers license he'd ever seen, and that you've "Gotta love illegal immigrants!" Nearly did a "spit take" with the "nightcap" I was drinking when I saw this!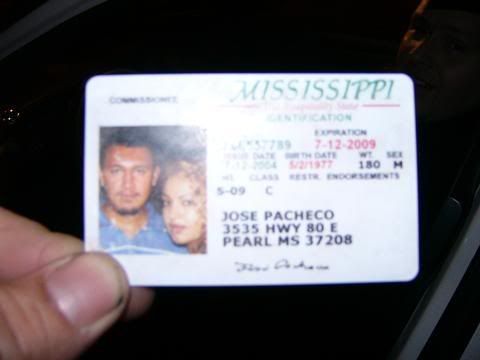 Been a bit down overall however this evening.
moo's kitty Zoe isn't doing well at all. Was hoping she had passed the rough patch she was going through and would recover. Doesn't seem to be the case unfortunately. My thoughts are going to the entire Moo family tonight. :-(