This post may not be about what you think it is, looking at the subject line (so get your minds out of the gutter!), but I've put the details behind the cut because it's picture heavy (safe for work)...



Okay, here's the scoop. I have always considered "Soap" as one of my top two favorite TV series of all time, the other being "Monty Python's Flying Circus". I audiotaped a bunch of episodes during the original series run in the 70's-80's (missed the first season because the ABC affiliate at the time, now NBC-10 KTVE, aired reruns of "The Odd Couple" that season, because they were paranoid about what the religious muckity muks in this area, would think about a "controversial" series). In the early 1990's, the Columbia House mail order company offered the series on a monthly subscription basis, each tape consisting of 4 episodes, each tape costing $19.99 each, plus shipping charges, which, by the time I got the entire series, resulted in this, a total of 23 VHS tapes (you can do the math on the total cost):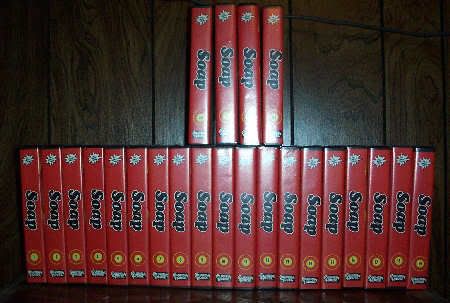 Then, in the early 2000's, it became available as season DVD sets, at $24.99 per set. Bought all four seasons: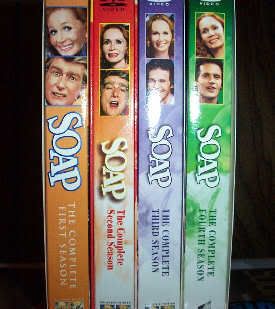 NOW, Sony Home Entertainment is releasing the entire series in a "flip type digipak set" for $59.99. Doubt I'll buy that one, unless none of the episodes are edited from the original broadcast versions... a couple of the DVD sets above were chopped a bit, using the syndicated versions, while the old VHS tapes I have are intact: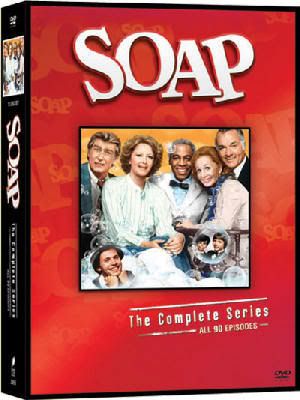 Anyone else get annoyed by constant DVD repackaging? Can't really be annoyed by buying the VHS version, DVDs weren't out then...